Hi!
Back in the Spring of 2016 I decided to create a DVD on training the setter. The goal was to demonstrate all the skills the setter would need to possess in order to be a great setter.
So, you might be thinking, why did I want to focus on setting?
It was the epiphany I had from observing setters.
I came to realize that all the best setters set the same way.
The best setters all step the same way to the ball and use the same setting motion.
In contrast to what I observed elsewhere, the average setter doesn't have these skills.
So, the question I had was, why not?
Why are these skills so rare?
Is it because some setters are just naturally gifted?
Or maybe the elite setters had all received the correct training?
From observing club and high school setters, it was clear that most hadn't been taught these skills.
Once in a while I would see a setter that would be making these athletic moves.
But this was rare.
The more I thought about it, the more obvious it became that the elite setters were all taught to set this way.
And so, I wanted to see if I could teach my setters these skills.
The next thing I decided to do was search the internet to find every video I could find on training the setter.
I compiled everything and then quickly went through all the material.
Most of what I found was the same general information on how to set.
But when I did find something good, I made sure to include it in my program.
There's something you need to understand about me.
Everything I teach my players... I can do myself.
I practice everything I preach because I'm not comfortable teaching what I can't do.
So, you won't ever find me teaching my players how to do something that I can't do... personally.
Everything I teach I know from personal experience that it works.
So, for me, to be comfortable teaching a skill, I must be able to do the skill myself.
Long story short, I had to learn these setting skills and so that's what I did.
The result was the setting dvd I created in 2016. Eventually I turned the dvd into an online course.
Today, I have an online setting membership that takes my students step-by-step through a coaching program that helps them get results fast.
Imagine Having Your Own Personal Coach
To keep you on track when you feel like giving up and to trouble-shoot with you.
To tell you exactly what to focus on.
Finally, you can...

Move quickly to the ball and deliver a perfect set
Never be called for an illegal set
Have tons of confidence
Get the recognition you deserve
You will only get results from your training if you actually put it into practice.
That's obvious, right?

But it's still a huge problem for most people. That's why I've created this membership in a very particular way.

First of all, this is not an ebook and it's not a boring lecture course.

I've built this membership to make sure you have a step-by-step strategy for getting started, overcoming obstacles, and sticking with it.
I realize that times are tough and the world is a little crazy right now.

For most people, volleyball is on pause.
Most aren't training right now...
But could they be?
I believe this is a great opportunity to improve your setting — now more than ever.
Does any of this sound like you?
You're Excited and Want to Get Started Quickly
...so I've created a Quick-Start Guide that helps you jump in immediately.
You'll Have Days When You're Tired and Feel Like Giving Up
...so we email you daily with videos, motivation, and tips to keep you going. I've planned out your journey with incredible detail to make sure you don't fall off the wagon or get tripped up by obstacles.
You Want to Make Changes that Last a Lifetime
...so I designed this membership to build habits into your life. Not only will you have more knowledge, but also habits you can stick with.
You Want a Done for you Program - Not Just a Bunch of Drills
...so I designed a training program to help you easily move forward... step-by-step.
You'll Have Questions Along the Way
I'll always be here to answer your questions. I want to make sure you get the best results possible.
Start Your Membership Today!
Your Instructor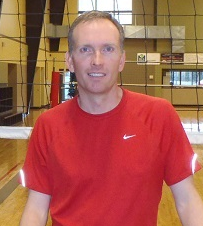 My name is Dennis Jackson. I have been involved in coaching, training, and competing in volleyball for over 28 years. I'm very excited to be sharing this cutting edge training with you.
If you want to be successful setting at a high level, you MUST train the setter the correct way.
The goal with setter training is for your setter to advance to a "higher level" as quickly as possible. The more effective and efficient the training, the faster the setter will progress.

Coach Jackson spends a significant time working on developing the correct hand/body positioning for setting along with a high level of focus on the movement patterns essential to running down difficult passes.
Coach Jackson demonstrates the variety of progressions to fine tune setter mechanics and teaches how to progress setters from novice to advanced skill levels by highlighting:

Open and Athletic Posture
Quick Hands and Feet
Establishing Rhythm
High Contact Point
Improving Setter Range
Setting Proficiency, Consistency, and Accuracy
Whether you're a setting coach or not, whether you work with novice setters or experienced setters, this setting membership can help.

The setter will develop coordination and quicker feet allowing smoother and more athletic play. The setter also acquires powerful endurance to sustain a high level of athleticism.
The more athletic and skilled your setter becomes, the stronger your team becomes. So don't pass up this great opportunity to take your team to a higher level!
Frequently Asked Questions
Exactly who is this membership for?
This membership is for anyone that wants to improve setting skills. As you advance through the membership, you will be working towards high level setting skills. You will learn the mechanics of the best setters in the world. You will have the opportunity to develop the setting skills you will need to compete in college. If you are a complete beginner, this is your chance to develop the correct setting mechanics and footwork. You don't want to make the mistake of competing with poor form. Bad habits can be extremely difficult to change. I'm providing you an opportunity to get on the correct path towards mastering the correct setting skills right now.
What if I have never played volleyball before? Will this membership help me?
Yes, if you have never played before, you will benefit from this membership. You will learn the fundamentals of setting. You will learn how to set the ball cleanly and with control. Your placements of the sets will become more accurate and consistent.
How long do I have access to the membership?
This is a monthly membership. After enrolling, you have access to the material for as long as you are enrolled - across any and all devices you own. You will receive new content weekly.
What if I need help or have questions?
Just shoot me an email and I will answer any questions you may have.
How long do I have to wait to get access the membership?
This is a digital, online membership meaning you get instant access to the materials and videos the second you join, even if its 4am. Since there's nothing to mail and no physical books etc, we can keep our program really affordable, saving you a ton of money for all this cutting-edge training.
I'm already a pretty good setter. Would this still help me?
Yes, but not as much as say, a newbie obviously. However, if you've never had professional training, then you very likely need this membership. All great setters have been taught these skills. So this is exactly what you need to take your setting to a high level.
Disclaimer: Consult a physician and follow all safety instructions. Every effort has been made to accurately represent the potential of this training. Results are not typical, and only represent athletes who worked very hard. Of course, no guarantee can be made for every single athlete.