Not Currently Open for Enrollment
If you want to be successful setting at a high level, you MUST train the setter the correct way.
The goal with setter training is for your setter to advance to a "higher level" as quickly as possible. The more effective and efficient the training, the faster the setter will progress.

Coach Jackson spends a significant time working on developing the correct hand/body positioning for setting along with a high level of focus on the movement patterns essential to running down difficult passes.
Coach Jackson demonstrates the variety of progressions to fine tune setter mechanics and teaches how to progress setters from novice to advanced skill levels by highlighting:

Open and Athletic Posture
Quick Hands and Feet
Establishing Rhythm
High Contact Point
Improving Setter Range
Setting Proficiency, Consistency, and Accuracy
Whether you're a setting coach or not, whether you work with novice setters or experienced setters, this 30 Day Setting Challenge can help.

The setter will develop coordination and quicker feet allowing smoother and more athletic play. The setter also acquires powerful endurance to sustain a high level of athleticism.
The more athletic and skilled your setter becomes, the stronger your team becomes. So don't pass up this great opportunity to take your team to a higher level!

Your Instructor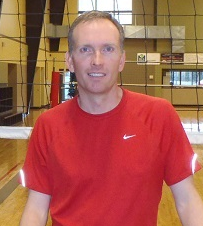 My name is Dennis Jackson. I have been involved in coaching, training, and competing in volleyball for over 28 years. I'm very excited to be sharing this cutting edge training with you.
Frequently Asked Questions
Exactly who is this course for?
This course is for anyone that wants to improve setting skills. As you advance through the course, you will be improving your setting skills to a high level. You will learn the mechanics of the best setters in the world. You will have the opportunity to develop the setting skills you will need to compete in college. If you are a complete beginner, this is your chance to develop the correct setting mechanics. You don't want to make the mistake of playing volleyball with poor form. Bad habits can be extremely difficult to change. I'm providing you an opportunity to master the correct setting skills right now.
What if I have never played volleyball before? Will this course help me?
Yes, if you have never played before, you will benefit from this course. This course will teach you the fundamentals of setting. You will learn how to set the ball cleanly and with control. Your placements of the sets will become more accurate and consistent.
How long do I have access to the course?
How does lifetime access sound? After enrolling, you have unlimited access to this course for as long as you like - across any and all devices you own.
When does the course start and finish?
The course starts now and you will always have access! It is a completely self-paced online course - you decide when you start and when you finish.
What if I need help or have questions?
Just shoot me an email and I will answer any questions you may have.
I'm really busy. Will this take up my time?
Yes. It will take awhile to learn the material. You can read and watch the videos as many times as you need to. I suggest coming back often to go over the material again. You will likely have new insights you hadn't thought of before.
How long do I have to wait to get access the training?
This is a digital, online course meaning you get instant access to all the materials and videos the second you join, even if its 4am. Since there's nothing to mail and no physical books etc, we can keep our program really affordable, saving you a ton of money for all this cutting-edge training.
I'm already a pretty good setter. Would this still help me?
Yes, but not as much as say, a newbie obviously. However, if you've never been coached then you likely need this training. All great setters have been taught these skills. So this is exactly what you need to take your setting to a high level.
This course is closed for enrollment.
Disclaimer: Consult a physician and follow all safety instructions. Every effort has been made to accurately represent the potential of this training. Results are not typical, and only represent players who worked very hard. Of course, no guarantee can be made for every single player.